It's that time of year again and we decided to do another Countryfile ramble for Children in Need.
Rather than raising sponsorship everybody paid a set amount to come along – dogs were free though!
The Walk Route
We decided to do a more local walk this year so a circular six mile route around Sutton Walls was chosen to be walked on Saturday 9th November.
On a sunny Sunday afternoon about six weeks ago I decided to do the walk so that we would know exactly where we were going – I am known for getting lost. It is a lovely route starting in Sutton St Nicholas across farmland, around orchards and includes a circuit of the hill fort before dropping back down to Sutton St Nicholas. Little did I know that getting lost would be the least of our problems.
The Weather
We had not chosen a particularly pleasant day. The two days before and the day after were sunny and bright but our chosen Saturday was wet and cold with snow threatened.
Never mind, we decided to go for it.
The Walk
We left The Golden Cross Inn, walked past the Old Post Office and onto farmland. It was very damp and a bit slippery underfoot but nothing too bad. We had only been going for about a mile when we hit mud. It was a ploughed over potato field. I told our intrepid walkers that it was only one field and then it was grass again.
Unfortunately I had not realised that the whole area had been completely under water and had not drained away yet! The grass field was a lake in parts. We had to get through it though. By the time we reached the road at Moreton on Lugg we were all a little damp.
And then the Mud!
Once we hit the road we had to make a decision. Whether to walk along the road and join the walk further round or continue over the next fields It was decided the road was too busy so fields it was. Disaster was about to strike.
At first it was fine as the edge of the field was grassy and, although soggy, was wide enough to walk on. It wasn't until we got to the corner and needed to walk up the next side to reach the stile that problems hit.
I headed off first with my grand daughter only to get stuck half way up. Before I had a chance to halt everyone else they were all on the same route behind us with some getting more stuck than others. Michelle was hauled out by Simon, Ben was also pulled out by Simon although he lost his shoe. Hellen though was beyond even Rosie's help! Stuck in mud up to the top of her wellies.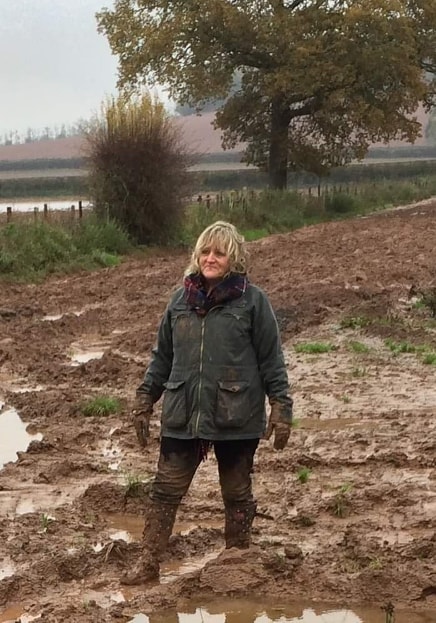 Poor Hellen resorted to digging herself out with her hands. This was going well until she fell over. Having got so muddy she continued to crawl along the mud to the edge of the field as the only way she was going to get anywhere.
The easy way back
After this fiasco we decided to walk along the road back to Sutton St Nicholas and the pub. By this time it was raining again, we were all caked in mud and a bit cold and wet. Even the dogs had had enough.
It was a shame as after the next two fields the route goes up around huge orchards towards the hill fort. It would have been much dryer as the area had not been flooded.
Lunch
What a wonderful welcome we received at the pub. We managed to discard most of our muddy gear, clean the dogs up a bit and present ourselves for lunch. A table had been laid out for the 10 of us with dogs and mud accommodated.
The meal was delicious and all home-cooked – even the burgers. We all thoroughly enjoyed the food and many of us even went on for pud!
Children in Need
Thank you to all members of staff, families and dogs who came along bringing with them a fantastic sense of humour. It could have been a disaster but ended up being something we could all laugh about.
Well done to everyone as we raised £115 for Children in Need.
I promise next time we do a walk it will be when the weather has improved and there is no sign of any mud!
Caroline